Pumpkin Pie Twists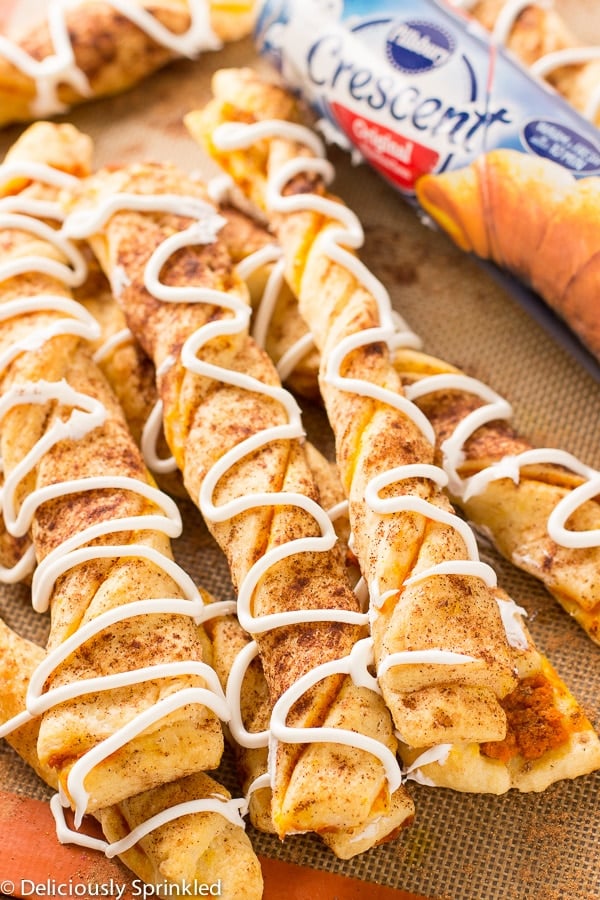 Ingredients
Pumpkin Pie Twists
 

1 can (8 oz) crescent rolls

 

1/2 cup pure pumpkin puree

 

3 Tablespoons butter, melted

 

3 teaspoons pumpkin pie spice
Cream Cheese Icing:
 

1/4 cup unsalted butter, softened

 

1/4 cup cream cheese, softened

 

1 cup powdered sugar

 

1/2 teaspoon vanilla extract
Instructions
Preheat oven to 375 degrees F. Line baking sheet with parchment paper or silicon baking mat. Set aside.
Unroll crescent dough and lay down as 4 rectangles on prepared baking sheet.
Spread pumpkin onto 2 of the rectangles.
Place the other 2 rectangles on top of the pumpkin. Press edges together.
Brush melted butter on top of rectangles. Sprinkle with pumpkin pie spice.
Using a pizza cutter, cut both rectangles into 6 strips.
Twist each strip a few times and sprinkle with remaining pumpkin pie spice. Bake for 8-10 minutes.
Cream Cheese Icing:
In a large bowl, beat together the butter and cream cheese with an electric mixer. With the mixer on low speed, add the powdered sugar until smooth and creamy. Beat in the vanilla extract.
Fill a zip-lock bag with cream cheese icing, lock it shut and snip off a corner of the bag. Ice tops of each pumpkin pie twist and enjoy. Simply throw the bag away when finished.
 Recipe & Photo adapted from deliciouslysprinkled.com