Carrot Cake Bars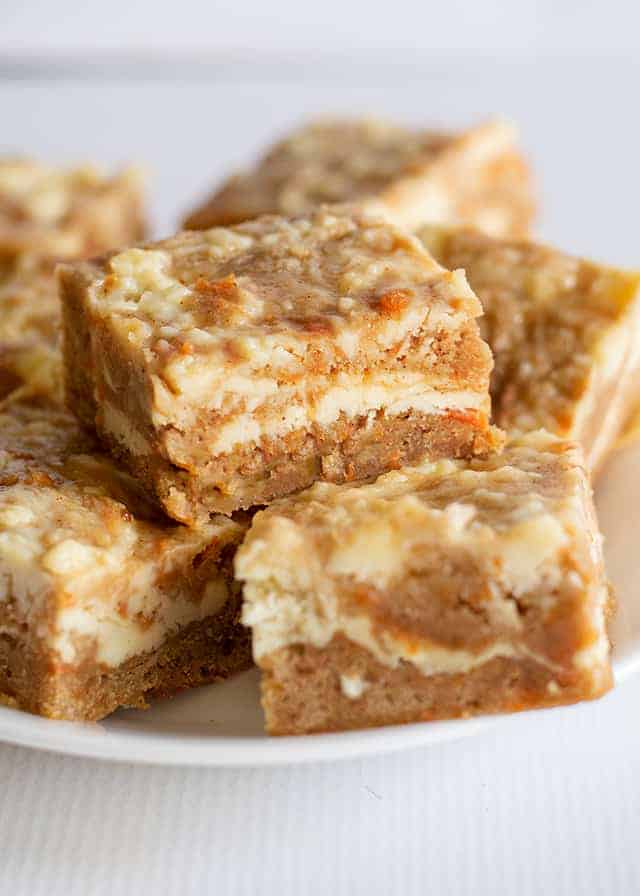 Ingredients
Carrot Cake Bars:
1/2 cup butter, melted
1 cup brown sugar
1 large egg
1 TBSP vanilla
1 cup flour
1 tsp cinnamon
1/4 tsp baking powder
1/4 tsp salt
1 cup shredded carrots
Cheesecake swirl:
4 ounces cream cheese, room temperature
1/4 cup sugar
1 large egg yolk
3/4 tsp vanilla
Instructions
Carrot Bake Bars:
Preheat oven to 350 degrees F. Spray an 8x8 pan with non-stick spray and set aside. 
In a medium bowl, add the melted butter and brown sugar. Mix to combine.
Stir in the egg and vanilla.
Add the flour, cinnamon, baking powder and salt. Stir until completely combined. 
Fold in shredded carrots. Set aside.
Cheesecake Swirl:
In a medium bowl, add in the cream cheese and sugar. Beat with a mixer until smooth.
Add in the egg yolk and vanilla. Beat until smooth and creamy.
Assemble:
Add about half of the carrot cake batter into the pan and spread it out.
Add half of the cheesecake batter by dollops to the cake batter. Don't swirl yet.
Add the remaining carrot cake batter on top.
Add the remaining cheesecake batter by dollops to the cake batter.
Using a knife, swirl the batters together. 
Bake for about 35 - 40 minutes until the edges are golden brown. There will be very little jiggle to the center.
Cool completely before cutting. Store in an air tight container in the refrigerator.
 Recipe & Photo adapted from cookiedoughandovenmitt.com